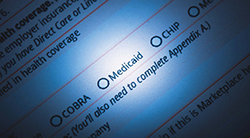 Specialized Medical Supplies (SMS) are provided primarily through Medicaid in conjunction with another waiver. State Funds provide SMS through Family Support Dollars.  Supplies authorized on an Individual Serve Plan (ISP) or a Plan of Care (POC) may include adult diapers, wet wipes, rubber gloves, vitamins and food supplements.
Ready To Work With Us?
---
Use our contact form to have one of our team members contact you today.