Gerald Graves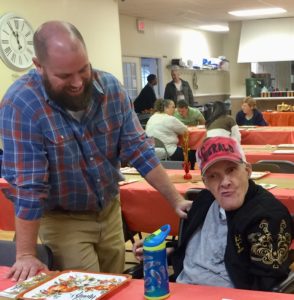 Gerald Graves has been working with Abilities Discovered, Inc. (ADI) since November of 1987. I have only been working with Gerald since August of 2019. Gerald experiences several forms of intellectual/developmental disabilities, none of which make him a disabled person. Gerald's heart is pure gold. He meets no strangers, loves everyone with the kind of love that changes lives. For me, his attitude, his approach, his zest for life, has dramatically altered my life. Yes, it can be hard to understand his speech at times. I have had to learn to listen closely for what he may be saying. He's teaching me to listen not just hear. Gerald must take each step with caution for fear of falling; sometimes, I have to prepare his path. Because of this, Gerald has taught me to be patient, not everything has to be completed with speed. It's better sometimes to take your time. Gerald has had a lifetime of experiences that many of us would take for granted, but he seems to remember and cherish them all. Gerald has taught me how to be a better person; take time to say hello to strangers, take time to hold the doors open for someone. I see when I'm with him how his joy affects others-it's contagious. Gerald has so much to offer this world. He has a lot to teach and this world is so much better because of people like Gerald. – Brian Harrell
---
Janice Davis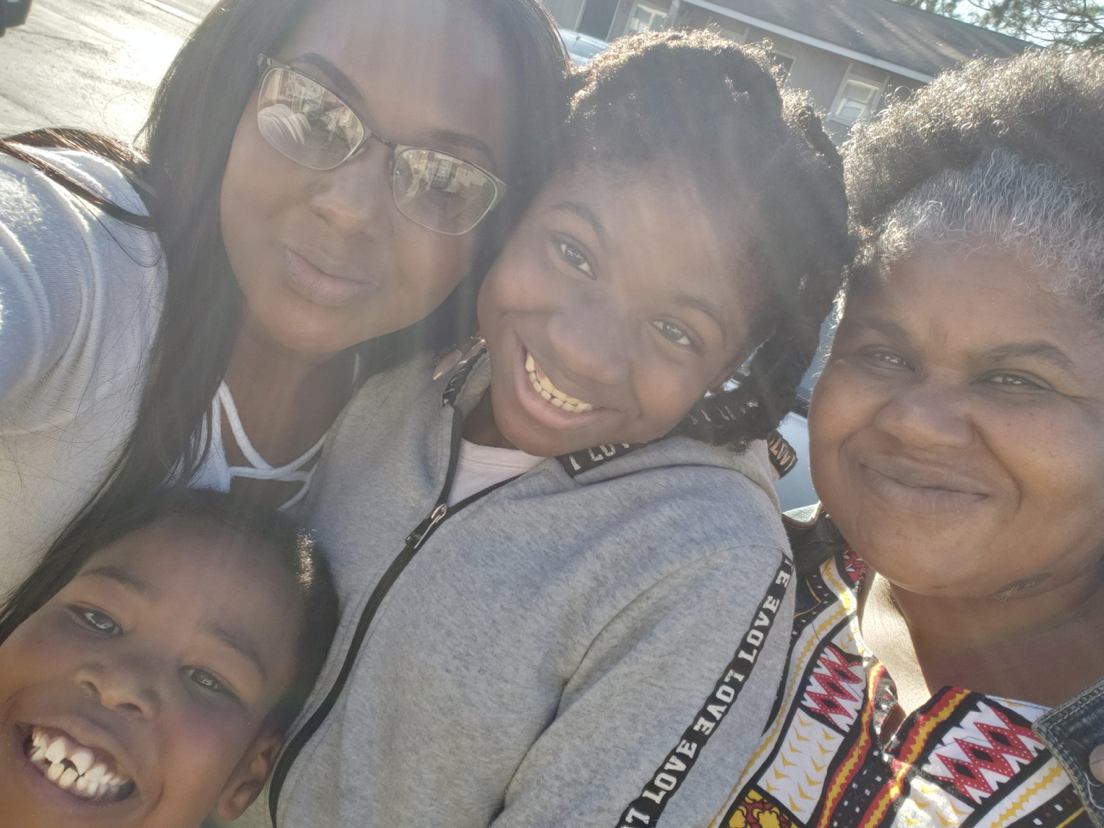 I called Janice the morning of Thanksgiving to invite her and Victoria to have Thanksgiving with my family. With excitement in her voice Janice said, "Yes we wanna come!" When picking Janice and Victoria up from their home, Victoria walked outside with a huge smile on her face. Once she noticed my nephew, Javari was in the car she became even more excited. Victoria met him the previous weekend and they enjoyed talking, watching You-Tube, and putting up the Christmas tree together.
Once we arrive at my mother's house Victoria and Javari made their way to my mother's room to play with toys and dance. Victoria was not interested in eating; on the other hand, Janice was. We all sat down and enjoyed our meals as Victoria and Javari continued to play. Each time a different person entered the room Janice was introduce to them. Once Janice finished her meal she was ready for dessert. Shortly after, Janice participated in a game of Taboo. She was concerned that she didn't know how to play. I explained how to play the game to her and assured her that she would catch on once we begin to play. It started off a bit rocky. Janice was helping the opposing team. I knew Janice had caught on once she began to answer for her team and guess the correct answer. Janice and I were on the same team. The winning team of course! After the game was over Janice was ready to eat again. I prepare Janice and Victoria a to go plate.
During the ride home, I asked Victoria and Janice if they enjoyed themselves. They both said, "yes!" That made my heart smile. I must say it was a Thanksgiving to remember and one of the best I've ever had! – Nasia Kleckley
---
Wendy Tawwater's Story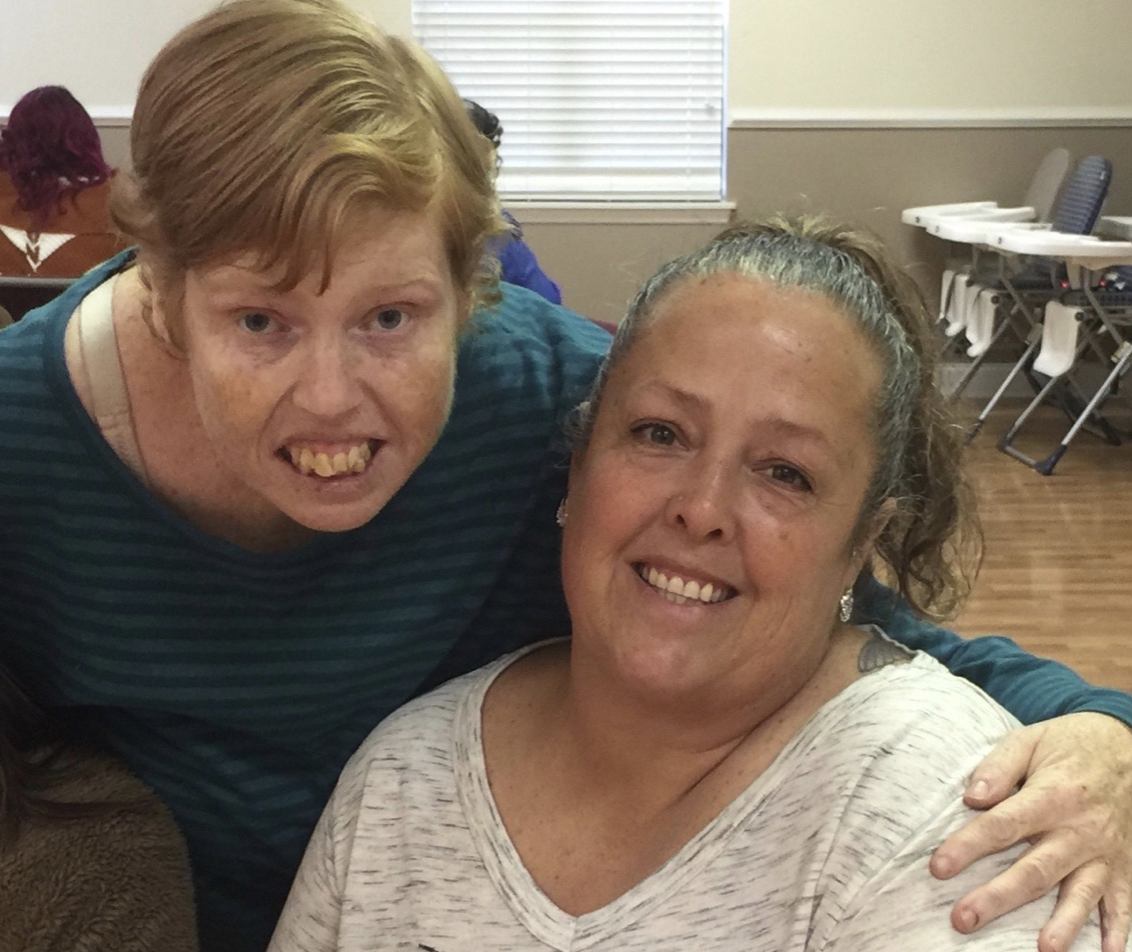 I have had the pleasure of living with and supporting Wendy for the last six years. Although, we have experienced many ups and downs Wendy has become a part of our family.
Recently, I joined Wendy at a Thanksgiving luncheon that was put on by Abilities Discovered, Inc. Without my knowledge, Wendy had nominated me for direct support professional of the month. In her nomination Wendy expressed the joy she feels about living with me and being a part of our family. As we celebrated Thanksgiving Wendy expressed to all of us that being part of our family was one of the things she was most thankful for.
Wendy enjoys doing activities with our family. We frequently go out of town to visit new places. We have taken trips to Gatlinburg, Tennessee to see the mountains and Panama City Florida. While visiting Panama we took a Pirate Cruise and relaxed on the beach.
We also spend many weekends traveling to little league baseball games where we enjoy cheering on my son Elijah and his team. When Wendy spends her time at home, she loves to help care for the two miniature donkeys, goats, and a few chickens that we have at home. Wendy is also learning responsibility and how to care for the animals. Wendy says it makes her feel good having responsibilities caring for the animals the way that Dana cares for her. – Dana Moore
---
Alan Hill and his Mom Ms. Pratt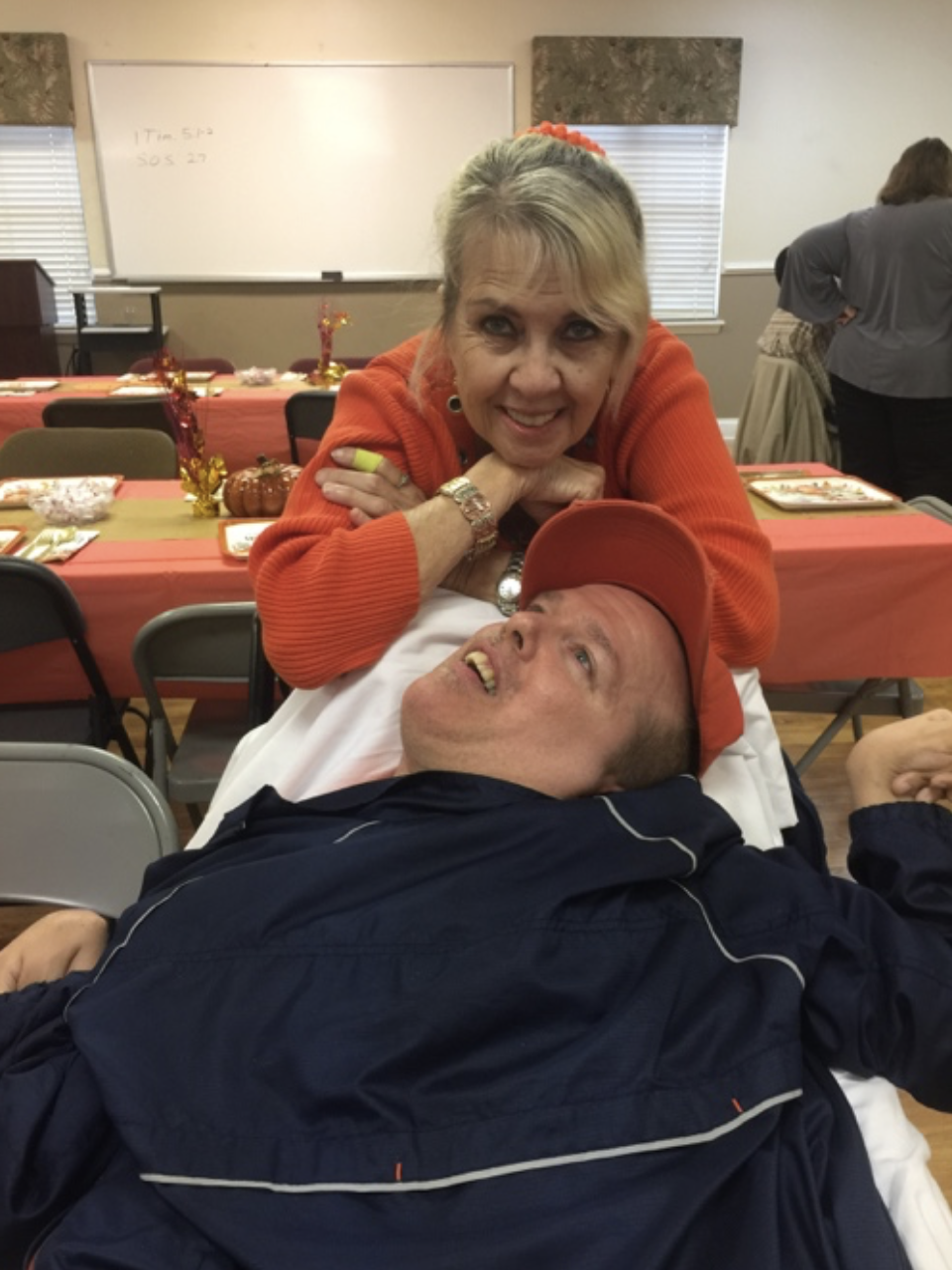 I met Alan 3 months ago, and I have learned so much from him. As he faces his day-to-day challenges, it never gets in the way of his positive outlook.
Alan loves country music and his personal dream is to be a DJ. Alan has been afforded the opportunity to be a guest DJ at a few venues in the middle Georgia area. He has a Karaoke machine in his home and often sings Karaoke with whomever will join him.
Alan's love of country music extends far beyond knowing many songs. His bedroom walls are covered with numerous autographed pictures of country music celebrities. He can quote every word to many songs, and he can tell you stats about country music celebrities, such as how old they are, their height, and where they are from.
Recently, a staff member mentioned she was going to Fort Payne, Alabama for a family reunion. Alan exclaimed, "Oh! That is where the group Alabama is from!" Alan mentioned that Jeff Cook, the guitarist for the group, was his favorite member of the band. He asked staff for an autographed picture of Jeff-and he got one! Alan was so happy and insisted on his photo being taken with his new picture to add to the collection on his wall!
While Alan lives alone in his own apartment, his mom Mrs. Pratts visits often. Here they are pictured together at a Thanksgiving gathering. – Amy Anderson
---
Fire Safety Training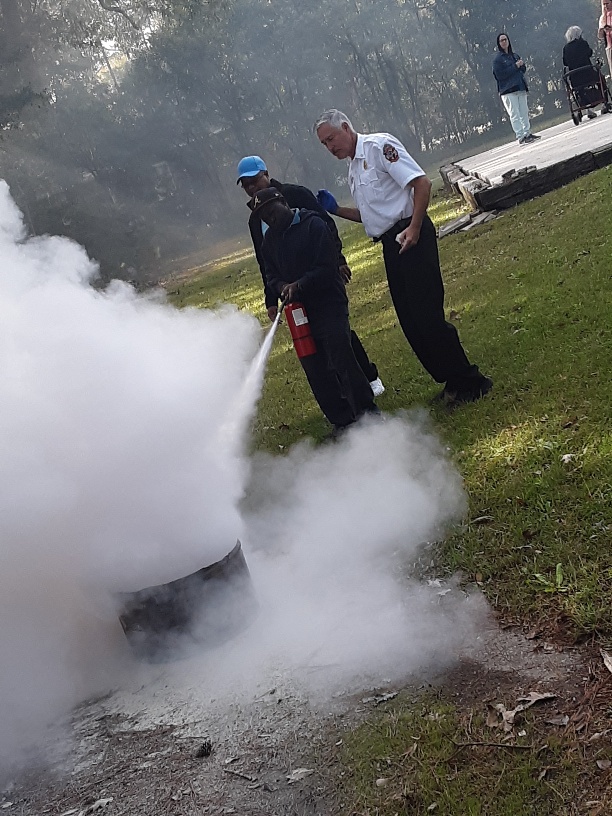 All staff and a few of the people we support attended ADI's annual Fire Safety training in November. Everyone had a great time participating and demonstrating how to properly use a fire extinguisher to put out small fires in case of an emergency.  Captain Williams assisted all people in training. Captain Williams explained to the individuals and staff the importance of making sure they had an escape plan in place and practice fire drills often. Alphonso, Ms. Pat Brumfield, Dolores, and a few others demonstrated proper usage of the "ABC" fire extinguisher in ADI's back yard by using the PASS method: PULL, AIM, SQUEEZE, AND SWEEP.  We are all excited to know we can be safer in our homes and in the community in case of a fire. – Brandi Mitchell
---
The Georgia Gathering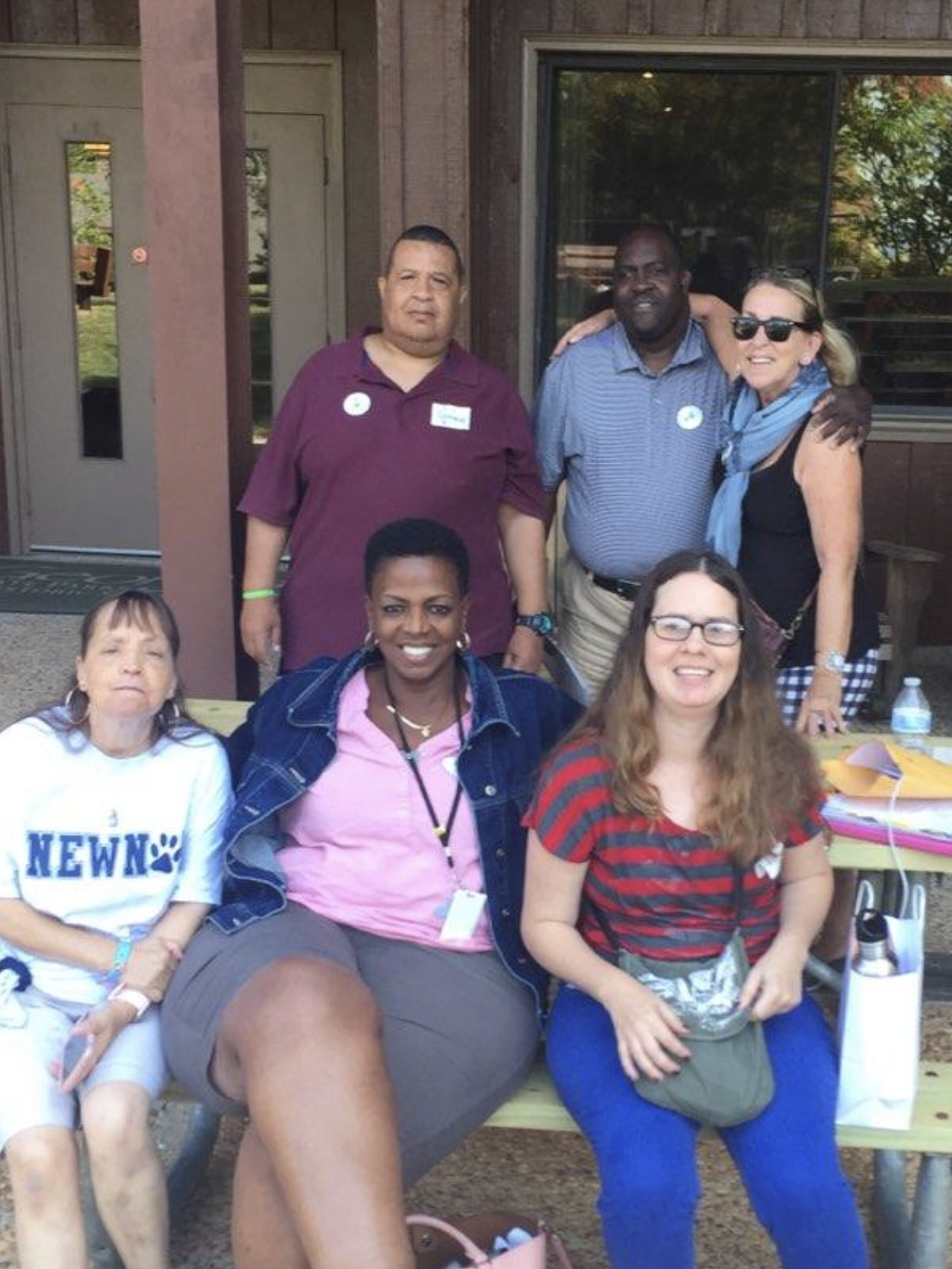 In October 2019 The Georgia Learning Community celebrated their 10th anniversary of the gathering. It was held at Unicoi State Park in North Georgia. I really liked the environment, with it's casual and rustic feel surrounded by nature. I had the opportunity to go with Denise, Dolores, Donald, Rodney, and Tamera. The focus of this years' conference was inclusion. We heard a lot of stories from different individuals on how they feel included. We heard some stories from individuals about not being included and seeking help from others on ways to feel included. I was very proud and impressed by the individuals that participated. They picked their own sessions based on what they wanted to learn or teach others during the breakout sessions. Denise spoke about being on her job for a long time and how much she likes it there. She said that Abilities Discovered, Inc. assists her when she needs it, but she likes the independence she feels. Donald read out loud and wasn't even shy.
He did a great job and only needed a little assistance from the group. Rodney reconnected with an old friend and has been communicating and visiting with her since the Gathering. Dolores enjoyed her time in nature. The entire group loved the experience and are excited about participating next year. – Veronica Releford
Ready To Work With Us?
---
Use our contact form to have one of our team members contact you today.